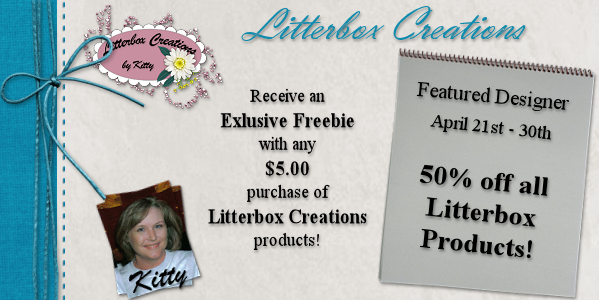 Scrap Mall
Featured Designer!
Litterbox Creations
April 21-30
All Items are 50% Off!
PLUS
Get a free gift with any $5.00 purchase of Litterbox Creations products!
Brand New Exclusive Kit! Not available anywhere else! FREE!!
Drop by Scrap Mall today and pick up those items
on your wish list, then be sure to grab your free gift!
Litterbox Creations Featured Products
Caribbean Blue Kit

PU/S4H $2.50

Scrappy the Owl Script

CU/PU/S4H $1.50

Element Pack #2 Script

CU/PU/S4H $2.00

Vintage Floral Script

CU/PU/S4H $1.50

Wavy Flower Script

CU/PU/S4H $1.50

Cherry-Vanilla IceCream

PU/S4H $1.50
---
A Good Credit Score is 700 or Above. See yours in just 2 easy steps!